World Chocolate Day 2020: Best Recipes To Celebrate The Occasion
'World Chocolate Day' also known as 'International Chocolate Day' is celebrated every year on July 7. It is celebrated globally on July 7 since 2009. Some even believe that it commemorates the day chocolate was introduced to Europe in 1550. This day is also celebrated on different days in different countries. Ghana, which the second-largest producer of Cocoa celebrates it on February 14 while in the US, October 28 is marked for chocolate day.
The day celebrates the rich dark chocolate that makes you go tingly inside. It is a celebration of mankind's culinary art. Chocolates, are not only perfect mood enhancer but also has some surprising health benefits. On this special day here are some easy best chocolate recipes to make the day sweet for your loved ones.
Here are Best Chocolate Recipes To Celebrate World Chocolate Day 2020:
1. Hot Chocolate:
Ingredients:
1 Cup Milk
1 Cup Chocolate
2-3 tbsp Cocoa powder
1/2 Cup Powdered sugar
Optional Cinnamon
Optional Vanilla
Procedure:
1. Boil milk in a deep bowl, add chocolate to it. Stir well.
2. Add cinnamon stick, vanilla stick, and powdered sugar along with the cocoa powder.
3. Stir well to mix thoroughly and pour hot in a cup.
4. Serve hot with a topping of whipped cream garnished with chocolate powder, shavings, or marshmallows.
2. Chocolate Chip Cookies:
Ingredients:
2 1/4 all-purpose flour
1 tsp baking soda
1/2 tsp salt
½ cup/ 1 stick plus 2 tbsp unsalted butter at room temperature
3/4 cup granulated sugar
3/4 cup light brown sugar
2 Eggs
3/4 tsp vanilla extract
2 cups semi-sweet chocolate chips or high-quality chocolate chunks from a bar
Procedure:
1. In a small bowl, whisk together the flour, baking soda, and salt. Set aside.
2. Cream the butter and both sugars for 2 minutes on medium speed.
3. Continue beating until light and fluffy, 2 to 4 minutes.
4. Add the eggs, one at a time, mixing well after each addition. Beat in the vanilla.
5. Add the flour mixture until fully incorporated. Be sure not to over-mix.
6. Fold the chocolate chunks with a rubber spatula until just combined.
7. Use a one-ounce cookie scoop to portion the dough into 24 balls. Place on a baking sheet and chill for at least 30 minutes and up to 24 hours.
8.When ready to bake, preheat the oven to 325° F. Line a baking sheet with parchment paper.
9. Remove the cookies from the refrigerator and let sit at room temperature for about 10 minutes. Arrange 12 cookies evenly spaced on the baking sheet. Gently press the dough balls to flatten slightly.
10. Bake for 10 to 12 minutes or until lightly golden brown. Let the cookies sit on the pan for 5 minutes, then transfer them to a cooling rack to cool completely.
3. Chocolate Muffins:
Ingredients
1 1/2 cups / 180 gm maida (refined flour)
1 1/2 cups / 360 gm castor or powdered sugar
1/2 cup / 120 gm butter
1/2 cup / 65 gm cocoa powder
3/4 cup hot water
1 tsp vanilla essence
2 1/2 tsp baking powder
1/4 tsp salt
3 eggs
Pastry cups and muffin pans
Procedure:
1. Place the pastry cups in the muffin pans.
2. Sift the flour, cocoa, baking powder, and transfer into a mixing bowl.
3. Add the salt, sugar, butter, eggs, and vanilla and beat well till smooth.
4. Add the hot water and beat again.
5. Put the batter into the pastry cups (not more than 1/2 full) and bake in a pre-heated oven for 15-20 minutes.
6. Remove from the oven and leave to cool.
4. Fudgy Chewy Brownies:
Ingredients
2/3 cup all-purpose flour
1/2 tsp salt
1/2 tsp baking powder
Cooking spray or little oil
60 gms unsweetened chocolate
120 gms bittersweet or semisweet chocolate
10 tbsp unsalted butter
1 1/4 cups sugar
2 tsp vanilla extract
3 large eggs
3/4 cup Optional: toasted walnuts, pecans, macadamia nuts, peanuts
Procedure:
1. Adjust oven rack to lower-middle position and preheat oven to 325 degrees.
2. Whisk flour, salt, and baking powder in a small bowl. Set aside.
3. Spray an 8-inch baking pan with cooking spray.
4. Fit a sheet of foil in the pan and up to two sides
5. Spray sheet with cooking spray.
6. Melt chocolates and butter in a medium bowl over a pan of simmering water.
7. Remove from heat, whisk in sugar and vanilla.
8. Whisk in eggs, one at a time, fully incorporating each one before adding the next.
9. Continue to whisk until the mixture is smooth and glossy.
10. Add dry ingredients
11. Stir in nuts
12. Pour batter into prepared pan, bake until a toothpick comes out with some wet crumbs.
13. Cool brownies and cut them into squares and serve.
5. Coconut Cranberry Chocolate Fudge
Ingredients
Condensed Milk: 400 gms
White Chocolate: 300 gms
Desiccated Coconut: 100 gms
Dried Cranberries: 130 gms
Dried Almonds, Finely Sliced: 50 gms
Pinch of salt
Procedure:
1. Layer a baking pan or any square pan with a parchment paper
2. Spread the desiccated coconut out onto a pan and toast it till it turns golden brown.
3. Pour condensed milk into a saucepan and add finely chopped white chocolate.
4. Turn the heat on medium and cook the milk until the chocolate melts.
5. Switch off the heat and mix the toasted coconut, salt, almonds, and Dried Cranberries.
6. Give it a stir and then pour the mixture into the prepared baking pan.
7. Set it in the refrigerator for 4 hrs. Cut it and store it in the refrigerator.
courtesy NDTV/Stateman
How Is Chocolate Made?
Chocolate is a fermented food, once the cacao pods are picked. They are cleaned of pithy white material from the fruit, then dried. The cacao beans are fermented. The cacao nibs are revealed once the papery shell is removed.  Chocolatiers then grind the nibs into the cocoa mass. They separate them into cocoa solids and cocoa butter. Later combine them with milk and sugar. If they're creating white chocolate then it's just the chocolate butter with milk and sugar.  Every Chocolatier has different methods and ideas that are all popular across the world.
The Best dark chocolate is from the Ivory Coast, Ghana, and Ecuador.
Also Read: World Chocolate Day: Put your sweet tooth into overdrive today
Keerthy Suresh to play Nayanthara's daughter?
Nayanthara and Keerthy Suresh have a lot in common including their home town being Kerala and both of them starring predominantly opposite all the big stars of South Indian cinema. For the first time in their careers, the two pretty girls belonging to different eras of cinema are starring together in Superstar Rajinikanth's 'Annaathe'.
It is whispered in Kollywood circles that the story of 'Annaathe' has leaked and a few versions are being circulated. One such version is suggesting that in the film Khusbhu and Meena compete to marry their cousin Rajini in their younger days but not wanting to hurt either of them he opts to marry someone else.
The story continues that Rajini then gets married to Nayanthara and the couple have a daughter who grows up to become Keerthy Suresh. if this turns out to be the case then Keerthy plays Nayan's daughter and the big question is whether she will don old getup or her character will be killed off in the younger days itself.
However this is not authentic news and we have to take it with a pinch of salt. 'Annaathe' directed by Siruthai Siva is produced by Sun Pictures and has music by D. Imman. The cast includes Rajini, Nayanthara, Keerthy Suresh, Meena, Khusbhu, Prakash Raj and Soori.
Forensic review. Forensic Telugu movie review, story, rating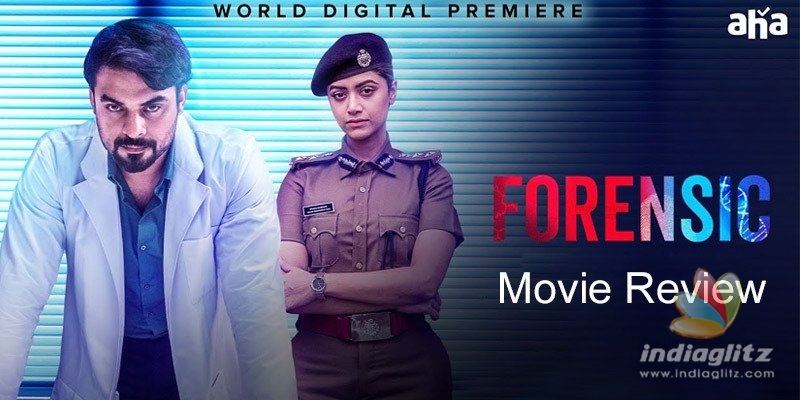 Forensic is a Malayalam film released on 28th February, 2020 in Kerala and other parts of the World. The movie received high appreciation in the original language and it seemed to be highly relevant to the situation that is prevailing in the Country, right now. As the film has an universal subject and appeals to wider range of audiences and not just Malayalam people, movie was dubbed into Telugu by Aha OTT platform for Telugu audiences.
Film is an investigation drama that majority revolves around a flawed relationship. Human emotions take over the investigation and how to stay rational during such situations becomes the point. Now, let's discuss about the movie merits and de-merits.
Story::
Plot of the film revolves around an incident that happened ten years ago. A young boy is thrown out of his home by his father for engaging in illegal experimentation on animals. He kills his father as an adult in present time and then we witness brutal murders of two young college girls on city outskirts.
Officer Rithika Xavier (Mamatha Mohandas) takes up the case of the murders and she is assigned Samuel John (Tovino Thomas) as her forensic expert. Both of them are connected by a troubling past and it becomes an hurdle in investigation constantly. They both have to figure out a way to work together and identify the killer. Is it the same person who killed his father? If so, why? Watch the film, to know the answers …
Analysis::
Movie relies heavily on the performances of the experienced cast like Mamata Mohandas and Tovino Thomas to take us through the later half of the run-time. The narration is too slow to really keep audiences on the edge for entire duration but the timely twists help you to watch it without switching to other tasks which means the film does engage you but it won't blow your mind off. It is one of the few investigative dramas from Indian Cinema that entirely depend on the scientific accuracy than just make believe logics in the hope that audiences will enjoy the film no matter.
While the accuracies help you well in engaging the audience members some times they do kill the thrill of watching a film, especially, if the narration seems too slow. As it is on the OTT platforms you have the option to stop, rewind or even jump ahead. Still, the overall experience of watching a tight gripping investigative drama is lost with non-sensical de tours from the main plot.
Directors Akhil Paul and Anas Khan started off the movie well but lost the sight off what they wanted to achieve as the narration progresses. If they could trim down some unnecessary threads in the film, the movie would have been rated among the best. Performances by Tovino Thomas and Mamatha Mohandas deserve special mention. Especially, Mamata's ease on screen is astonishing as she grew leaps and bounds from how she used to perform when she started out in Telugu Cinema. Tovino has delightful screen presence.
Verdict:
Movie works because of the performances of the cast than the narration. This could have easily been a must watch with even tighter screenplay. Still it is an engaging film despite flaws like slow pace and unwanted de tours. You can give it a try on a lazy weekend.
SHOCKING: Trolls are the reason why Anupama stays away from Mollywood
Malayalam blockbuster hit 'Premam' was a life changer for actress Anupama Parameswaran, who in fact named her home by the film's name. She is still known among the Malayali audience by her movie's character Mary.
Though she shot to fame with her debut movie 'Premam', the actress has done only three Malayalam movies to date. However, Anupama is one of the top heroines in Telugu and has delivered several back to back superhits. Now, after a hiatus, the actress has signed a Malayalam movie titled Maniyarayile Ashokan. In a recent interview with TOI, the actress spoke about why she chose to stay away from the Malayalam cinema.
Thanking director Alphonse Puthren for transforming her life with Premam, the actress revealed that she faced a lot of criticisms on social media post the release of 'Premam'. She said that she was deeply hurt when people trolled her online for appearing in several interviews during the pre-release time and boosting her own publicity for doing just a very less screen time in the movie.
"I had to face a lot of social media abuse post Premam's release. They said I had jada and was called an ahangari. During the promotions, I gave a lot of interviews as certain people who weren't connected to the movie told me to make use of the opportunities. I was tired of interviews. I was a little girl from Thrissur and all I knew was to follow what they said. When the film released, I had limited screen time and people started trolling me for that. They felt that I used the publicity for my personal growth. My answers weren't polished during the interviews and I was really hurt (by the trolls). So, I decided to stay away from the Malayalam film industry and began rejecting films that came to me," Said Anupama in an interview with TOI.
She further added that it was the time she got a call from a big production house in Telugu to play a negative role. "As some people had said that I do not know how to act and knew only to boast, I took it up as a challenge; I decided to learn a new language and get into that industry. I got two more Telugu films after that and then came Tamil and life went on," added Anupama.