a lousy Sandleresque Netflix comedy
Back in 2014, long before he was redeemed in cinephiles' eyes by the anxiety-inducing frenzy of Uncut Gems, Adam Sandler admitted that he absolutely takes roles based on whether or not there's a free vacation involved. It might not be a great system for the critics who then have to watch and review the results of said trips, but be honest—if you had the opportunity to take a job that not only paid well, but came with a luxurious stay at a five-star resort, you'd at least think about it, right? With that in mind, let's not judge SNL's Nasim Pedrad too harshly for taking the lead role in Desperados, a film that spends its 105 overlong and painfully predictable minutes burning through the goodwill Netflix has built up with its recent string of critically acclaimed romantic comedies. Still, the Mexican resort where much of the action takes place looks really nice.
Pedrad stars as Wesley, a woman in her early 30s whose desperation to settle down and raise some kids is in direct conflict with her complete inability to get her shit together. As in many of your more generic rom-coms, Desperados takes place in a world where money is real but the bill collectors never quite come knocking. Friendships are lifelong and intensely loyal, but no one seems to actually like each other all that much. And if anyone ever said what they meant, the plot would stall out in the first five minutes. In this case, after getting knocked out cold on the sidewalk outside of an L.A. taco joint, Wesley wakes up and finds herself gazing into the hunky eyes of Jared (Robbie Amell), a sports agent who Wesley decides is the love of her life because a) he's hot and b) he wants to have a family, too.
The only problem is, Wesley puts on an affected "cool girl" persona when she's around Jared, petrified that her real personality will scare him off. If your response to reading that sentence is to think, "well, that's not a very good long-term strategy," then congratulations—you're already an hour ahead of this movie. In the interim, Wesley drunkenly sends Jared a hurtful email after he disappears for five days, thinking he's ghosted her. But in another good old-fashioned bit of concussion-based rom-com plotting, it turns out he was actually in a medically induced coma after getting into a car accident in Cabo San Lucas. And to pile convenience on top of coincidence, his doctors have ordered him to stay off of his phone and rest. So Wesley rallies her best friends Kaylie (Sarah Burns) and Brooke (Anna Camp)—each of whom happens to be going through a personal crisis of her own, not that Wesley notices or cares—and takes off for Mexico, with the intention of breaking into Jared's room at a plush resort in order to delete the email.
That's a lot for the first act of a comedy, and it doesn't even account for the character of Sean (Lamorne Morris), the blind date Wesley was fleeing when she met Jared, who also just happens to be vacationing at that same resort—another contrived plot point that goes exactly where you think it will. Part of that does come down to Morris and Pedrad's romantic chemistry, which is obvious from the moment they first encounter each other on screen. (The two played love interests on New Girl for a few seasons.) In fact, the cast as a whole persists mightily throughout this shambling, frustrating, overplotted film, whose humor never rises above a cheap and vulgar gag where a dolphin ejaculates in Wesley's mouth. No funnier is a recurring bit where wacky circumstances make it look like she's trying to seduce a 12-year-old boy.
And the characters are no more realistic than the plot, proceeding from the clichéd assumption that getting married and bearing a biological child is the pinnacle of female achievement. (The men's motivations are similarly simplistic, but men are not the target audience for this film.) Later on in the movie, Kaylie and Brooke finally find the courage to stand up to Wesley and her narcissistic self-absorption, but Desperados isn't nuanced enough to really know what to do with this sudden injection of realism. And so it just hangs there, acknowledging that, yeah, someone who acted the way Wesley does in this movie probably would have trouble keeping friends in real life. But don't let that ruin your vacation or anything.
Athleta Face Masks: Get Face Masks for Adults and Kids
Skip to main content
Jon Moxley Comments On MJF, Title Match At AEW All Out Is Official
AEW World Champion Jon Moxley retained his title against Darby Allin on tonight's AEW Dynamite. That now makes his match against MJF at All Out on September 5 official.
After the match, Moxley got on the mic to talk a bit about Allin, and his upcoming title bout against MJF. In regards to Allin, he called him relentless, and said one day Allin will be a World Champion. Moxley continued that even though Allin is a loner — like him — he can ride with Moxley at any time.
Switching gears to MJF, Moxley had this to say about his challenger, who attempted to take Moxley out tonight during the match with his own title.
"It's a little scrambled in my brain right now, I'm not sure exactly what happened, but I got a pretty good idea," Moxley said to the camera. "There's a kid out there with no heart. And even if he did, it stops beating, real soon. He's a dead man."
You can check out Moxley's full comments in the video above.
Jackie Aina Divorced Her First Husband to Become a Beauty Guru
Renowned for her impeccable sense of style and no-nonsense approach, Jackie Aina obtained millions of fans on YouTube over the years. However, her life hasn't always been pitch-perfect. So, when did she get divorced?
Jackie was married by the time she turned 21 — but the relationship didn't last long.
For two years, Jackie was studying pre-med at the California State University San Bernardino. As she told Buzzfeed News, she felt like the course was the wrong choice. 
Eventually, she and her then-boyfriend made a pact. She would follow his lead and join the military, and they would both move to Hawaii, where he was stationed. By the time she turned 21, she and her boyfriend were married. 
Determined to make the new, strange life work, Jackie would devote her free time to binge-watching makeup tutorials while working as a reservist. 
"I was hooked because it was my escape from being married and miserable. And living on an island by myself and not having any money," she told Buzzfeed News. 
"I have a lot of experience of what it looks like to rush a timeline of expectations, because I was married at 21 […] what I'd taken away from being married young and rushing my own expectations and also, truthfully, what it'd look like to put myself second, that was what I did on my own doing," Jackie explained in a YouTube video titled "Unpopular Opinions: Marrying Young and Societal Pressures."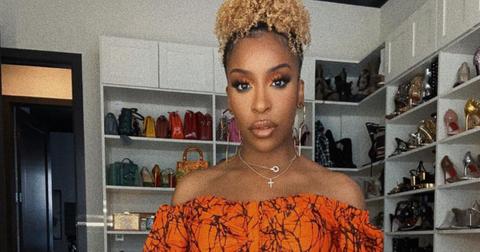 "It meant dreams on hold […] at 21, I knew things that I liked, but I didn't know that things I liked could also be the things that could make me money. I didn't get the chance to explore those things because I was already married with someone who was already the breadwinner," the YouTuber added. 
"You can't always afford to take the risks. […] If one parent is the breadwinner, then you're gonna be the one at home, raising the kids," she remarked. 
Jackie divorced her husband and moved to Los Angeles to study cosmetology.
The relationship didn't work out. As the anecdote has it, Jackie divorced her husband and left for Los Angeles with just $300 in her pocket. However, she didn't leave the military behind. In 2011, she was sent to Kuwait. 
A year later, she returned to Los Angeles, and soon after, she enrolled in cosmetology school. 
In just a few years, Jackie became one of the most sought-after beauty influencers out there — and quite possibly the only beauty YouTuber who is widely trusted by her followers. 
Unlike her competitors, Jackie earned praise with her refreshingly honest, to-the-point approach, and for her courage to call out brands like Morphe for their failure to cater to Black audiences.