Teenage Bounty Hunters: Are the Twins Related in Real Life?
Netflix's upcoming comedy Teenage Bounty Hunters centers on a pair of twins, Sterling and Blair, who team up with an established bounty hunter to track down bad guys and collect the rewards. So are the actresses actually twins in real life, or is this just a case of really good casting?
Although they certainly look like they could be twins in real life, actresses Maddie Phillips and Anjelica Bette Fellini aren't even related at all, and on top of that, there's a surprisingly big age gap between them, too. Phillips is 25 years old and Fellini is a full decade younger at age 15! It's rare to have actual teenagers playing teenage characters, so Fellini is one of very few who manage it — especially while playing opposite an older co-star.
The age gap also means that Phillips and Fellini's resumes are somewhat different so far. For Fellini, she's still very much a newcomer to the business. Her most recognizable role has been on the superhero drama The Gifted, where she played Rebecca, aka "Twist." Her only other credits are the movies Sid Is Dead and The French Dispatch.
Phillips, on the other hand, has acting roles going back to 2013. For the most part, she's had one-time guest roles on established shows, including spots on Lucifer, iZombie, and Supernatural. She's also popped up in minor roles in a handful of made-for-TV movies over the past few years, such as the Hallmark franchise Signed, Sealed, Delivered and several Christmas movies. Her biggest role so far is probably the short-lived SyFy series Ghost Wars, in which she played Randeen for five episodes.
Teenage Bounty Hunters is the latest teen programming from Netflix, although it's definitely pretty different from the "normal" teen comedies you're used to! The cast also includes Kadeem Hardison as the bounty hunter expert they team up with, Mackenzie Astin and Virginia Williams as their parents, Myles Evans as Blair's love interest Miles Taylor, Spencer House as Luke Creswell, Sterling's boyfriend, and Cliff "Method Man" Smith as a rival bounty hunter, Terrance Coin. The action comedy is scheduled to drop its entire first season on Aug. 14.
Kristin Cavallari Cozies Up to Her 'Laguna Beach' Ex Stephen Colletti
Skip to main content
Sarah Logan On Being Worried About The Riott Squad, Nearly Winning At WWE WrestleMania 35
Former WWE star Sarah Logan has taken the initiative to find new, fulfilling projects to fill her time since departing from the WWE. With a blossoming YouTube channel called "The Wild and Free TV" growing in popularity, and her first child on the way, Logan has certainly been keeping busy.
Wrestling Inc. was lucky enough to get some time with Logan to discuss her career in WWE. Logan looks back at certain staples like "The Riott Squad" faction, a group she formed with Liv Morgan and Ruby Riott, with fond eyes. However, Sarah notes how The Riott Squad was advised to "mimic" another group that formed around the same time, "Absolution", made up of Mandy Rose, Sonya Deville, and Paige.
"I don't think [Absolution] hurt [our momentum]," Sarah said. "But the only frustrating part was that we mimicked Absolution for so long. Like, they would do something, then we would do something. We happened to be on Tuesday and they were on Monday, so everyone knew on Monday what we were doing on Tuesday."
The Riott Squad was regularly featured on RAW in the ring or in various backstage segments. These would sometimes include the three women walking around the arena and harassing other employees that worked for the company.
With that chapter of their careers over, Logan recalls a time when she was unsure that The Riott Squad would come together harmoniously. Sarah was already close friend with Ruby, but Liv Morgan was someone she hadn't taken the steps to get close to.
"I was just worried about Liv feeling… Not as much as part of the group, because me and Ruby had so much history," Sarah explained. "Me and Ruby were already friends. And Liv, Liv can make friends with a freaking broomstick. She's just, you know, so outgoing.
"I remember I had a talk with Ruby that I was like, 'I want Liv to feel included, so we're traveling with each other together.' We ended up not having to try at all because she just clicked, but I remember having the conscious decision to make this girl feel included because I didn't want her to feel left out. Because we already had such an established history in me and Ruby," she continued.
The group would eventually split and each transition into singles competitors. Although the three women haven't seen much success up until this point in their singles careers, Logan nearly won the Women's Battle Royale at WrestleMania 35.
"When I – this isn't Squad related. Sorry Ruby, but [my favorite career moment] was at WrestleMania, so whatever," Sarah said. "When I threw Asuka in the WrestleMania Battle Royal and then Carmella ended up coming, winning it all. For that moment, when I was the only one in the ring at WrestleMania and everyone thought I won, I thought I won for a second. It was crazy!"
If you use any quotes from this article, please credit Wrestling Inc. with a h/t for the transcription.
Mehdy Labrini contributed to this article.
Stassie Karanikolaou Has Been in Kylie Jenner's Life a Long Time
Ever since Kylie Jenner and former bestie Jordyn Woods had a very public falling out, the makeup mogul has been attached at the hip to longtime pal Stassie Karanikolaou.
Though the friends are constantly showing off their perfectly proportionate physiques on Instagram, they didn't always look like Barbie dolls. Before the plastic surgery and fillers, which both have admitted to, they were just two young girls going through adolescence in Hollywood.
Kylie and Stassie before surgery: the two influencers met in a bookstore.
Stassie grew up near the Jenners in Calabasas, Calif., but didn't meet Kylie until she attended a Keeping Up With the Kardashians fan event in the show's early years. They were both 11 years old at the time and quickly hit it off.
Kylie previously shared a photo from that meet-and-greet on her Instagram Story. "It all started when I met this beautiful bomb ass blonde at Barnes and Nobles," the reality star wrote. "This was our first pic together before we were friends."
She added that Stassie spent so much time at her house during middle school and high school that it was almost like they lived together. "You basically became another sister," Kylie noted.
"You've been the most consistent and loyal friend in my life," the mother of one told Stassie during a Teen Vogue interview, "and I feel like without you, I wouldn't be the person I am today. Because I wouldn't be weird anymore. I'd be trying to be normal."
Stassie is much more open about plastic surgery than Kylie.
Kylie's famously full lips, which she later admitted were achieved through fillers, helped launch her billion-dollar cosmetics brand, but the 22-year-old hasn't confessed to getting more work done. Stassie, on the other hand, has always kept her nine million Instagram followers in the loop when it comes to going under the knife.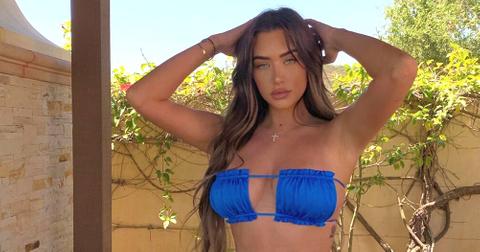 In 2017, she revealed that she had gotten a breast lift because her boobs were asymmetrical. "I used to have the cutest, perkiest boobs when I was young," the social media celeb explained to Harper's Bazaar.
"Someone had told me that if you wear an underwire bra it makes your boobs sag. I had cute boobs so I would never wear a bra," Stassie continued. "Overtime, I found out that whoever told me that was completely wrong." 
One breast grew to be a full cup size larger than the other, but instead of getting implants, Stassie went with the lift to regain symmetry. "I was very open to sharing — plastic surgery is nothing be ashamed of," she said after the procedure. 
"A lot of people think plastic surgery is only for cosmetic reasons, to change something you're insecure about. All my comments were saying, 'you're so insecure, you're so insecure,'" she recalled, referring to internet trolls. "If I was insecure, I wouldn't have showed it."
Stassie later opted for implants, but confessed in a YouTube video last year that they were causing her problems. "I'm fixing my implants next Thursday. I'm having issues with my current ones," she explained in October. "I'm pretty sure it's, like, bottomed-out or something… I'm just gonna get a little bit of a smaller [implant]."